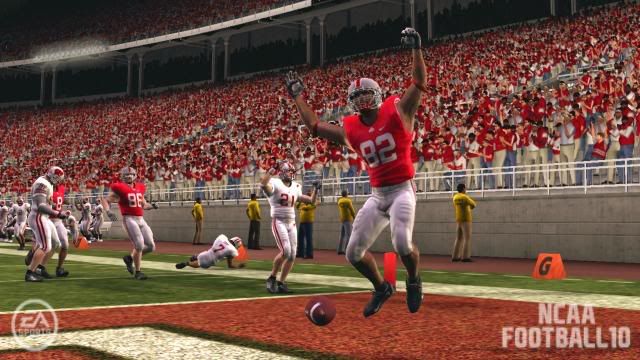 Coach Griffin was all smiles after the game:
"Well, we did what we had to do. And let me to you - if we would have played this one like we played our last couple, the Badgers woulda whooped us good. They got a helluva team, and I bet they give the rest of the Big Ten fits. We needed our best game of the season, and that's what we got."
What probably has coach so happy is the fact that not only did OSU play their usual tough defense, but they also managed to pass the ball a little against the Badgers. Terrelle Pryor was a very efficient 13-15 for 154 yards and a touchdown. He threw a pick also, but that came as a result of a hit taken in the act of throwing rather than the bad decisions Pryor has been prone to make lately.
The Buckeye offensive efficiency was likely due to Coach Griffin's play-calling, as he spread the ball around throughout the game. Three different runners got ten carries or more. Six different receivers caught passes. And Terrelle Pryor ran and passed almost equally (13 run/15 pass), keeping the defense guessing the entire game.
The Game Ball went to right guard Jim Cordle, who racked up a whopping 6 pancake blocks in this one, while allowing no sacks. When asked why his two touchdowns weren't enough to earn the ball, HB Boom Herron said "You kiddin' me? Jimmy was blowin' guys up all over the place. Without him, I don't score any touchdowns."
And with that, he adjourned to the film room with the rest of the team.